With a deep understanding of the intricacies of workflow, collaboration, and integration, Hoosier Business Machines is prepared to help you optimize the people, processes, and technology that drive your business forward.
In addition to our industry-leading office equipment, HBM offers dedicated solutions designed to organize your data and reduce printing costs. Consider the business solutions outlined below to determine what makes sense for your company. Contact us to learn more or get started.
Managed Print Services (MPS) outsources the monitoring and maintenance of your hardcopy print fleet—including printers, copiers, fax machines, and multifunction printers (MFPs)—to a verified partner like HBM. Our goal is to provide you with a print strategy that is tailored to meet your business needs, while improving both your bottom line and your business processes.
According to Gartner, a leading IT industry research and advisory company, implementing MPS can save your business up to 30% on printing costs, a significant savings for any business. MPS also allows you to consolidate your devices, invoices, and solutions into a single, comprehensive contract, streamlining your print infrastructure. Our MPS solutions will help you focus on core business objectives and value-adding work, rather than having to solve printer problems or remember to order toner.
HBM Can Manage Your Print Fleet In 4 Simple Steps:
Convert unknown variable costs into manageable fixed costs

Maximize device uptime

Free up IT time for value-adding tasks

Automate meter reads and consumables ordering

Proactively maintain and supply your output fleet
Reduce storage space and subsequent costs

Effectively store, archive, and organize files

Enhance data security and regulatory compliance

Quickly and easily retrieve and collaborate on documents

Improve version control

Boost workflows with remote access to all of your business data
The modern office is inundated with information. Whether hardcopy or electronic, data drives businesses to produce services, solutions, and products to stay competitive in today's market. All of that information—from email to invoices to Word Documents—needs to be organized and stored securely. At the same time, this data should be easily retrievable, as research shows that the time spent searching for documents drains businesses' bottom lines.
HBM's document management systems provides you with an efficient way to capture, store, and retrieve documents, enabling your company to run more smoothly and efficiently. A document management system enables you to store both paper and electronic versions of documents, tying all of your data together and storing it in a single, central repository. Our document management systems accommodate a diverse range of media, including audio and video files, photographs, emails, graphics, and more.
Traditional storage methods of paper documents can be costly, as the space required to keep up with compliance regulations is inefficient, bulky, and expensive. Converting and storing these records digitally provides a secure solution to stay compliant while saving you money.
Businesses that take advantage of a document management system realize savings in both time and money, as well as increased productivity, improved customer service, and an enhanced bottom line.
PRINTING & SCANNING SOLUTIONS
HBM does wide format copying, printing, and scanning. Whether you are a contractor or home owner, we can make those prints for you. Also, if you need a document reduced or enlarged, we can help with that too. HBM can archive those wide format documents into digital data for future reference.
If you need help with a large print job or one that requires hole punching, binding, and other finishing options, we can handle that too. Please call for a quote and availability. Whether you need professional binding or need to print documents like brochures, presentation materials, event programs, manuals, booklets, or more, HBM can help take your printed collateral to the next level.
One stop shop for all copy needs

Convenient printing and copying service

Laminate small items up to 24" wide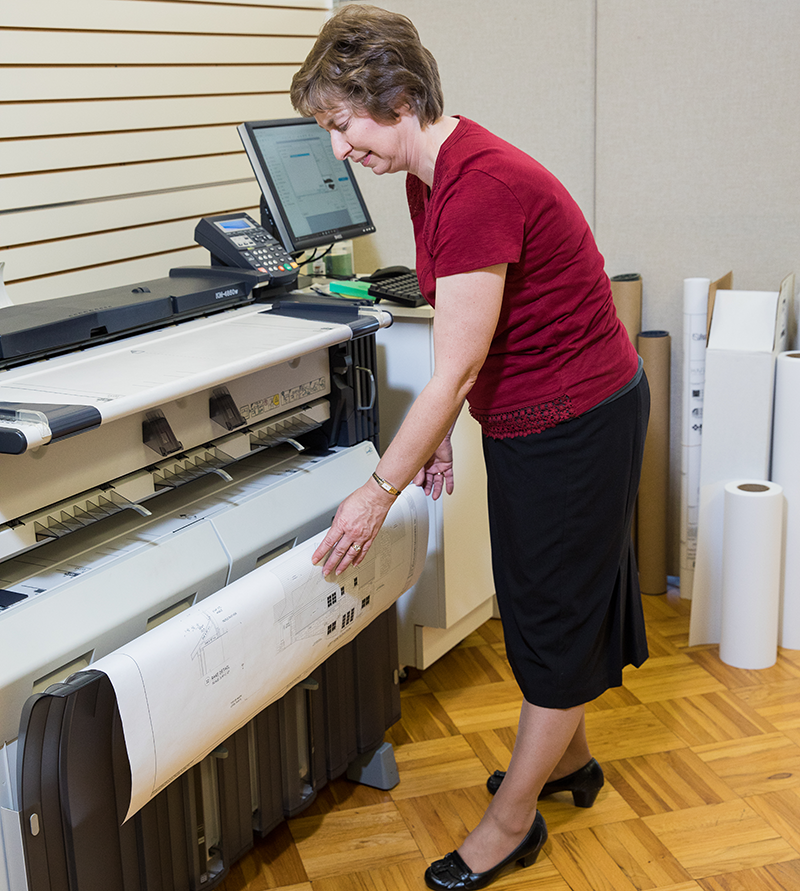 CUSTOMER TESTIMONIALS
Hear success stories straight from our satisfied customers
Great machines and great service. I have been replacing all the Xerox and Ricoh machines on campus over the last couple of years with Kyocera and HBM.

HBM is a small locally owned company with flexibility that I need to service the University. The other 2 just fail in over-all customer support.
I have been approached by other companies wanting my business. No way. Hoosier Business Machines has achieved the pinnacle of "doing it right". When you find a company that will do what they say every time, you stick with them.   If you are not a customer- you should be.
HBM supplies us with all our business machines.  The pricing is always very competitive.  Their sales staff is respectful in working with our budget options.  The service dept is timely in making any necessary repairs….we usually see a technician the same day or the following day!  HBM works well with our IT vendor in linking together our computers, copiers, fax, etc.  We would refer HBM to any office!
We struggled for years to find a printer service organization that was as customer service oriented as our Information Systems department was. We finally found the right partner with Hoosier Business Machines. Soon after that we standardized on their excellent Kyocera machines, and have truly found a strategic partner that is always working with us to find the right cost effective solutions to help us run our business.
Contact Us To Learn More Today